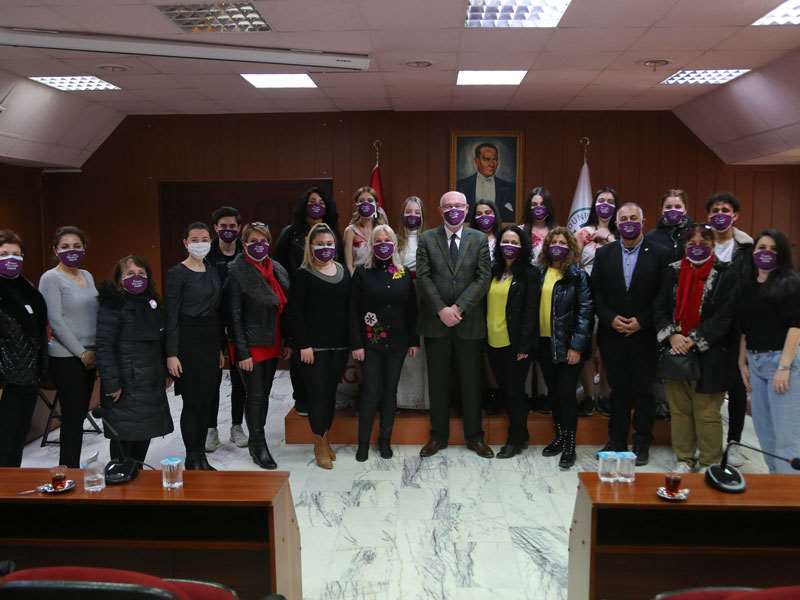 10 Mart 2021 Çarşamba
Odunpazarı City Council Theater Working Group and Women's Assemblies visited Odunpazarı Mayor Kazım Kurt. During the visit, where violence against women was discussed, women thanked President Kurt for his work against violence against women. In his speech, President Kurt said that the Istanbul Convention and the law No. 6284 should be implemented as soon as possible. The women presented President Kurt with a purple mask inscribed "Istanbul Convention lives".

Odunpazarı Mayor Kazım Kurt continues to meet with women on 8 March For International Working Women's Day. President Kurt finally met with the Theatre Working Group of Odunpazarı City Council and Women's Assemblies. The visit, which took place in the Council Hall of Odunpazarı municipality, was accompanied by Ismail Kumru, Chairman of Odunpazarı City Council.

During the visit, the problems experienced during the pandemic period, violence against women, murders of women and the problems faced by women in the field of work were discussed. Among the women who came to visit was Öznur Sazlar, a volunteer of the Odunpazarı women's Assembly and a victim of violence. Sazlar, who was stabbed in 15 places by his ex-wife in 2017, described what the women who were victims of violence had gone through. Women thanked President Kurt for his work against violence against women, especially by giving the names of Ceren Özdemir and Tuğba Arslan to the youth and Community Center to raise awareness of violence.

MARCH 8 AWARENESS RAISING AND FIGHTING DAY

President Kurt congratulated the women, noting that the women's assemblies and theater Working Group have made moves to raise awareness of many issues so far. President Kurt, who emphasized in his speech about the implementation of the Law No. 6284 and the Istanbul Convention, pointed out that 8 March world working women's day is not a day of celebration. President Kurt, who noted that March 8 should be a day for raising awareness, fighting, continued his speech with the following words: "many of our enlightened women in Turkey are seriously fighting on this issue. I congratulate them, I support them. I stand for equality between men and women to the end. I emphasize that in any environment, everyone has to defend. This should not be opposed on any grounds. The Istanbul Convention is a law, the law has to be applied. If a state and a parliament have made a law, it means that I will regulate this area according to this law. Unfortunately, tens of thousands of our women have been killed and slaughtered in Turkey in the last 19 years. This needs to be completely eliminated. If we need to be side by side in the same conditions as the countries of the modern world, we also need to follow the rules that they accept. The Istanbul Convention is such a convention. The state says I will abide by the equality of men and women. After signing the contract, it makes such a commitment and says that it will also eliminate the negativity in this regard. And a law has been made in that direction. According to our constitution, sections related to human rights in international conventions are ahead of our constitution if they pass through our Parliament. In other words, they cannot even be proposed to be replaced. Even eliminating them cannot be discussed.

I DO NOT UNDERSTAND THE IDEA OF 'JUST SIT TIGHT'

Unfortunately, the Istanbul Convention, introduced by the government in Turkey, was again discussed by the government. Did you do it wrong? Or do you always do it wrong? Why do you want to change now? I always question who is happy that a woman is beaten by her wife or a relative. What mindset, logic, reason? I don't accept your ' just sit tight or stay where you are ' understanding . We should all say that such an understanding is not true, it should be rejected. Especially in the law; it is not right to try to mitigate the sentence saying he wore a tie, he buttoned it up, he regretted it etc. But it is necessary to say in capital letters, emphasizing on March 8 that the biggest responsibility in this regard is also women, and women should be aware of this. We have to ask everyone to comply.

Continue your struggle. This is not a struggle left to men. Know the value of the rights that Atatürk gave women 100 years ago before all countries of the world. Know that by attacking Atatürk, they are actually attacking your basic rights and take care of Atatürk." After his speech, the women presented President Kurt with a purple mask inscribed "Istanbul Convention lives".