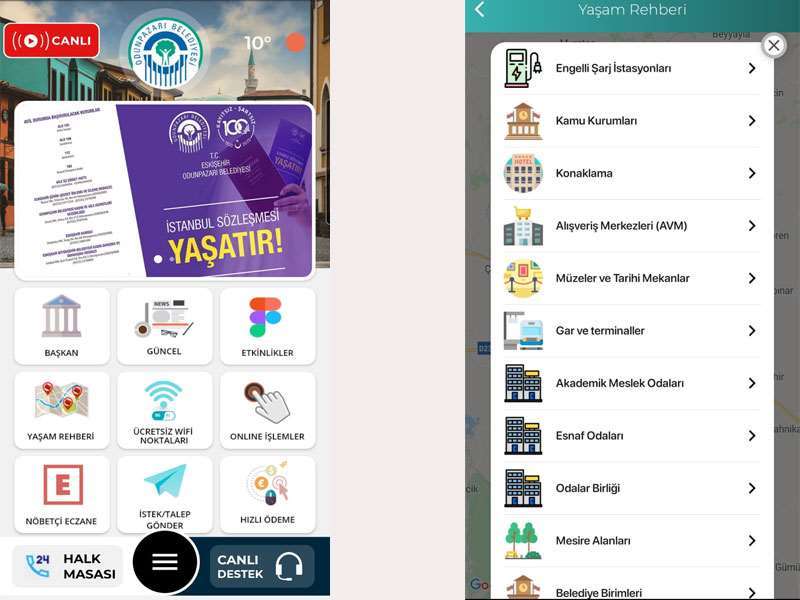 24 Şubat 2021 Çarşamba
Odunpazarı Municipality continues its digital municipal practices. Odunpazarı Municipality, which has renewed its official web page, is as close to citizens as a mobile phone with its mobile app. Users who download the" Odunpazarı Municipality Mobile " application to their mobile phones can send requests and requests to Odunpazarı Municipality. In addition, citizens can access information such as the nearest sentry pharmacy and taxi rank via the mobile app.
Odunpazarı Municipality," Odunpazarı Municipality mobile " application has been implemented. Thanks to the mobile application of Odunpazarı Municipality, which has renewed its technological infrastructure, citizens can provide easier access to services.
Odunpazarı Municipality's corporate mobile app can be downloaded from the app store (https://apps.apple.com/tr/app/odunpazar%C4%B1-belediyesi/id1546540847?l=tr) and google play Store (https://play.google.com/store/apps/details?id=com.odunpazari) .
Citizens who download the application published under the name" Odunpazarı Municipality Mobile " for free can see the news and announcements on the official website of Odunpazarı Municipality, as well as perform transactions such as debt inquiry, debt payment. In addition, in the content of the application, it is possible to transmit requests, suggestions and requests to the municipality.

ODUNPAZARI MUNICIPALITY IS NOW IN YOUR POCKET

The mobile app has a city guide. In this guide has the following information: the charging stations with disabilities, public institutions, shopping malls, accommodations, museums and historical places, railway stations and terminals, chambers of the academic profession, trade associations, the Union of Chambers, recreation areas, units, municipalities, commercial businesses, petrol stations, free WiFi hotspots, hospitals, pharmacies, schools, banks and ATMs, police stations, places such as the address of veterinarians and includes directions. With live support in the application, citizens can contact the public desk during working hours. Tradesmen in the Odunpazarı region can add their own work places to the Life Guide, which is also included in the application.

EMERGENCY BUILDING ASSEMBLY AREAS ON ODUNPAZARI.BEL.TR

On the other hand, the official website (www. odunpazari.bel.tr), the municipality of Odunpazarı, which continues its work, also entered the site of emergency collection areas designated by AFAD after a possible earthquake. Citizens who click on the "Building Assembly Areas" tab in the Quick Menu on the official website are directed to the site where AFAD's disaster and emergency assembly areas are located. Citizens who fill in the information here correctly create an information card and find the nearest gathering area to it. Building managers can print out these information cards to reduce panic in emergency situations and hang them where residents will see them.